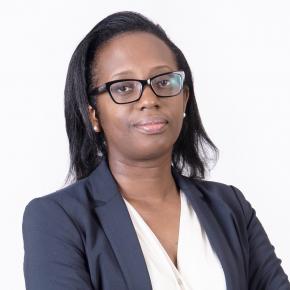 Chief Executive Officer, Bank of Kigali PLC
Dr. Diane is Bank of Kigali's Chief Executive Officer. She is a Seasoned Economist who has held several leadership positions in the past. Prior to joining Bank of Kigali, Dr. Diane was the Head of Strategy and Policy Unit, and Chief Economist at the office of the President.
Dr. Diane also served as Director General of the National Institute of Statistics of Rwanda where she oversaw the design and implementation of major surveys. Before she moved back to Rwanda, Dr. Diane worked as a Fixed Income Portfolio Engineer at Credit Suisse in Zurich and taught statistics at the University of Fribourg in Switzerland.  
She studied Economics, majoring in Econometrics and she holds a PhD in Economics from the University of Fribourg. Her research areas mainly concentrated on Risk Modeling and Measurement. Her doctoral thesis entitled "Dependency in credit portfolios: Modeling with Copula Functions" was published in 2009.
Dr. Diane currently serves as Non-Executive Director on several boards including the University of Rwanda and Rwanda Development Board.