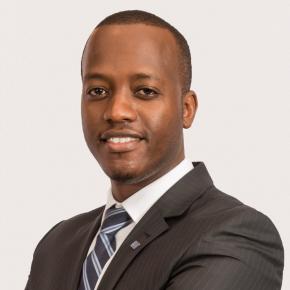 Chief Digital Officer, Bank of Kigali PLC
Regis Rugemanshuro serves as the Chief Digital Officer of Bank of Kigali Plc. Prior to that role, he was the first Chief Executive Officer of BK TecHouse Ltd, the Tech subsidiary of BK Group PLC where his work in the two years he spent there earned him the 2018 All Africa Business Leaders Award (AABLA) as Finalist for East Africa Innovator of the Year. Under his leadership, BK TecHouse was voted and awarded the 2017 Best Technology Company in Rwanda by the Smart Service Awards. 
Before joining BK Group Plc, Mr. Rugemanshuro spent his career in the United States consulting for the global Tech giants such as Hewlett Packard (HP) as a Program Manager and later with Accenture PLC in Seattle, Washington. During his time there, his main clients included Microsoft and T-Mobile.
His area of focus is at the intersection of Business and Technology; his expertise is in helping clients realize the promise of the digital revolution via adoption of modern engineering platforms and practices. He is known for his high energy and contagious passion to solving complex problems.
He is also a Certified Project Management Professional (PMP) by the Global Project Management Institute (PMI) as well as a Certified SAFE Program Consultant (SPC4) by the Global Scaled Agile Academy. He has a bachelor's degree in science information technologies and an MBA in Management both from Misericordia University in Pennsylvania.