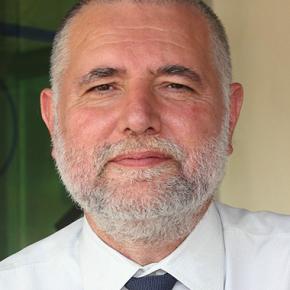 Director, @iLabAfrica, Strathmore University, Kenya
Dr Joseph Sevilla is the Founder and Director of @iLabAfrica, a Research and
Innovation Centre at Strathmore University (Nairobi, Kenya). He is also the
Director of @iBizAfrica, a Business Incubator. He graduated as an Industrial
Engineer (Universidad del País Vasco, Spain) and holds an MSc in Computer
Science (University College London, UK) and a PhD in Bioinformatics (TECNUN,
Universidad de Navarra, Spain). He has over 30 years of experience in the IT
ecosystem of East Africa.
Achievements:
While in Strathmore he has previously held the offices of Deputy Vice Chancellor,
Dean of the Faculty of Information Technology and a member of the University's
Management Board. In 1991, he founded the Information Technology Centre
(ICT) and, later, he spearheaded the creation of the Faculty of Information
Technology.
He is a Member of the British Computer Society and has actively participated in the "East African Internet Association" (EAIA) and the "Computer Society of Kenya" (CSK). Dr Sevilla has participated as a member in a number of committees established by the Ministry of Education, the Ministry of Research, Technical Training and Technology, and the Ministry of Information and Communications; he has advised the Kenyan Government and the ICT Board on the drafting of national policies in ICT education, the national syllabus for Computer Studies in schools and the adoption of a national ICT strategy. He has acted as Chairman of the Document Description and Processing Languages Technical committee of the Kenya Bureau of Standards (KBS). He has been advisor to the Kenyan Directorate of Industrial Training in issues related to computer training. Together with representatives from other local universities,
he participated in the creation of the Kenya National Educational Network (KENET). He is active in a wide variety of fields such as Distance Learning, eLearning,/mLearning Mobile Computing, FOSS, ICT4D, Managerial Decision Modelling, Cybersecurity, ICT in Education, Bioinformatics and eHealth.
Organization Profile: @iLabAfrica is an ICT Research and Innovation Centre at Strathmore University. The centre carries out Training, Research and Projects promoting the adoption of cutting edge technologies in close collaboration with Government and Industry. Currently, @iLabAfrica brings together over 40 full- time researchers and its various activities have a wide reach within the East Africa region. @iBizAfrica is a Business Incubator at Strathmore University that provides mentorship, access to capital and physical resources to local entrepreneurs. Over 100 start-ups benefit from its activities.