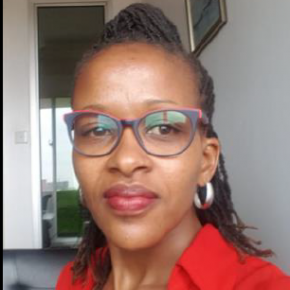 Manager - IT Security Function, @iLabAfrica, Strathmore University, Kenya
Eunice is an experienced systems security professional, committed to keeping up-to date with new technologies and threats. As a goal-oriented projects manager, Eunice is passionate about systems security and highly interested in IT knowledge transmission.

She is the Manager of IT Security function in @iLabAfrica – Strathmore University. In this capacity, she is managing IT Security projects, research, and trainings. She is the Project lead in the Blockchain and Child Online Protection (COP) research team where she has led a series of trainings offered to students and IT professionals and research activities on Blockchain technology and child safeguarding, development projects etc.

She holds a Msc. in Information Systems Security (ISS) and bachelor's degree in Business Information Technology (BBIT) from Strathmore University. She is a member of ISACA, pursuing the CISA certification and CEH instructor certification. She holds the following certifications:
1. C)ISSO: Certified Information Systems Security Officer
2. C)TIA: Certified Threat Intelligence Analyst
3. IBM Blockchain Essentials and developer foundation badges is pursuing

Eunice has over 5 years' experience in Systems audit in Deloitte and Touché and in the financial sector. She has also been actively involved in IT research and publishing. She presented their work in the IATED INTED Conference in Valencia, Spain in 2020 on "Digitising Academic certificates using Blockchain Technology".

Language:

Fluent (Written & Spoken): English, Swahili, Spanish
Basic: Italian

Achievements:
Varied trainings of IT professionals and students in IT Security skills

KENET CS/ IS Mini grant 2019 for the project on digitising academic certificates using Blockchain technology.

Child Online Protection (COP) research and trainings for parents, teens and pre-teens.

Formed part of:
1. The system change-over team for a core banking system in a Kenyan bank.
2. The Implementation and post implementation review of Agency banking, Prepaid cards, and Mobile banking systems for a Kenyan bank.
3. The QA team reviewing the core banking system implementation for a SACCO in Kenya

Publications:
2013: M-Learning: A Proposed Pedagogical Model for Institutions of Higher Learning in Africa: The European Conference on Technology in the Classroom 2013, Official Conference Proceedings 2013

2014: Authentic Assessment of Programming Skills: NNGT Journal – International Journal on e-learning and education, Volume 1, July 30 2014

2015: The Potential of Social Media as a Tool for Promoting Learning: a case study of Strathmore University (2014 eLearning Innovations Conference and Expo-Kenya)

2018: Strathmore University Research and Innovation Conference - Blockchain certificates: a prototype implementation for digitizing educational certificates

Organization Profile: @iLabAfrica is an ICT Research and Innovation Centre at Strathmore University. The centre carries out Training, Research and Projects promoting the adoption of cutting-edge technologies in close collaboration with Government and Industry. Currently, @iLabAfrica brings together over 40 full-time researchers and its various activities have a wide reach within the East Africa region.