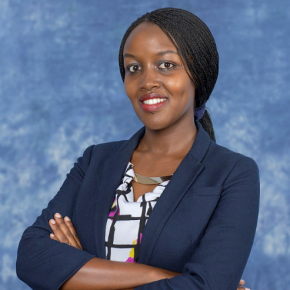 Minister of Information and Communications Technology and Innovation, Cabinet of Rwanda
Paula Ingabire is a Rwandan technology enthusiast and politician, who serves as the Minister of Information and communications technology and Innovation, in the Cabinet of Rwanda, since 18 October 2018. 
Before her current appointment, she was the Head of the Kigali Innovation City initiative. Prior to that, she held the position of Head of ICT at the Rwanda Development Board. 
She joined the reshuffled cabinet of H.E President Paul Kagame who reduced the members of cabinet from 31 to 26. The cabinet is 50% women making Rwanda, with Ethiopia, the only two African countries with gender equality in their governments.