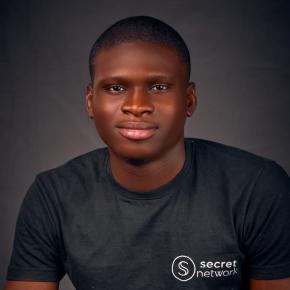 Secret Agent Coordinator, Secret Network Africa, Nigeria
Popeblack is a well-known figure in the blockchain and Web3 space with over 2 years+ of experience in the field. He is currently the Secret Network Africa Lead and Secret Agent Coordinator, responsible for managing and coordinating various blockchain-related initiatives across the region and The Secret Community.

Popeblack is also a well-regarded speaker and has been invited to speak at numerous events(online and offline) on the topic of blockchain, Web3 and emerging technology. He has been featured in major publications such as Binance News, Binance Africa, Blockchain Reporter, and CoinnewsExtra for his insights and expertise in the field.

In addition to his work in the Blockchain space, Popeblack is also a recognized member of the Stakeholders in Blockchain Technology Association of Nigeria. He is highly regarded for his hard work in the Cosmos ecosystem and Is the community manager and coordinator of Blizzard.Finance: one of the best-decentralized exchanges on the Secret Network.

Popeblack is active on social media and can be found on Twitter at https://twitter.com/thepopeblack and on LinkedIn at https://www.linkedin.com/in/thepopeblack/.

Thank you!