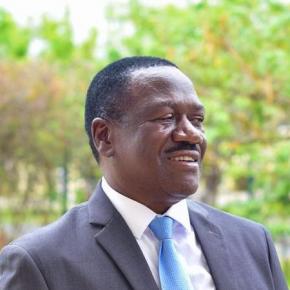 Honorary Consul of the Czech Republic in Tanzania
John Chaggama proudly serves as Honorary Consul of the Czech Republic in Tanzania, fostering bilateral
relations between the two countries.
Chaggama started his career as an Auditor at the Tanzania Audit Corporation, served as an accountant at various organizations, and made significant contributions to the financial management of different regions in Tanzania. Recognizing his exceptional abilities, he was appointed to positions of responsibility that provided valuable insights into national treasury management.
John Chaggama's professional journey expanded beyond the borders of Tanzania when he became the Special Assistant to the Secretary General for the United National Independence Party in Zambia. Chaggama has been entrusted with significant international assignments, including

 

involvement in the construction of a crude oil refinery and pipeline in Doha, Qatar.
Chaggama worked with the India Farmers Fertilizer Corporation,
facilitated the growth of the gem-cutting industry and the establishment of a gemstone training college in Jaipur, India, and
recognizing investment opportunities for Tanzania, he explored potential collaborations with South Korea, and
helped set up a non-plastics factory for hospital establishment in Seoul, Korea.
John Chaggama's international assignments further included studying gold refinery best practices in the Czech Republic, which aligns with his role as the Honorary Consul of the Czech Republic in Tanzania.
His endeavors also extended to the development of an orthopedic center in Romania and exploring real estate funding and development opportunities in Hong Kong, China.
In addition to his professional endeavors, John Chaggama has held various board positions. He serves as the Board Chairman of CHIKITO, one of the leading technology companies based in Dar es Salaam, which has clients in more than 30 countries worldwide
and has held board positions at the University of Arusha and the Aquaculture Association of Tanzania (AAT). His involvement in the ruling party as a Board of Trustee member and his directorship in Tungeni Green Company Ltd, Tanzania House of Business Company Ltd, Knotgrove Grains Tanzania Limited, and Tanzania Commodity Exchange reflect his commitment to the growth and development of various sectors
.
Ambassador John is also a chairman of the Smart City Project in Lake Zone, Tanzania, a $20bn project.
He is currently pursuing an MBA (Admin) as a part-time student at the University of Sunderland in the United Kingdom. He completed the CPA course through the Institute of Financial Management Classes, and his academic achievements include diplomas in accounting from the MBA Board and business administration (accounting) from the Dar es Salaam Business College.
John Chaggama has been involved in several assignments and task forces. He played a crucial role in the Tanzanian Gold Exchange (TE) as part of an inter-ministerial government task force, and contributed his expertise to the inter-ministerial government task force for the establishment of the Urea & Ammonia Plant in Tanzania.
Chaggama has been actively engaged in fostering bilateral relations with sister parties, representing Tanzania in discussions with countries like DR Congo, South Africa, Angola, China, Uganda, and more. He specializes in transportation and telecommunication for railway system upgrades, showcasing his commitment to infrastructure development.
He is recognized as an expert in financial analysis, auditing and advisory services, banking, senior management development, information technology, people management, team arrangement, multi-cultural awareness, public relations, and protocol arrangements. His proficiency in these areas has contributed to his success and made him a sought-after professional in his field.